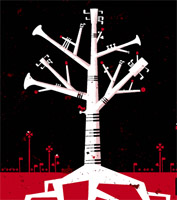 I visited the Utrecht edition of the Muzikantendag and like previous years it was veeery interesting, especially when you don't have the stress of dropping demo's and just enjoying the lectures.
The opening by veteran Henk Westbroek was inspiring and funny, much more so that I had suspected. It's obvious he's very used to the stage also when it comes to speaking out, giving a few stabs at the industry as well.
Allan Eshuis had a few interesting things to say about composition, but got into a bit of a fierce debate with a member of the audience when the topic changed to publishing. But then Allan works for the majors and is hired for writing hits, not art. Though his opinion on sharing a little to get more isn't that far fetched either. sounds very strategic and business-like though.
He did however have a thing in common with veteran/poetic musician Thé Lau : they can both write a song around a single word that sounds great. In Thé Lau's case he got famous for Blauw which turns out to be inspired by the blue tiles in a Greek restaurant. It turns out Thé Lau has quite an awesome encyclopedic knowledge of music too.  Respect!
The Rock your English-session by Buffi Duberman was the most useful and fun of the day. She coaches Dutch bands to make their English lots less shitty both with regards to grammar and pronunciation. Apart from just having a very bubbly personality to look at, she also wraps it all up in fun games that actually get your mind going. I'm surely going to use a few of her ideas to better my English.
Niels Aalberts (EHPO), Meindert Bussink & Claire van der Hall had a discussion on Promotion 2.0 which, knowing the parties involved boils down to the simple message: get a website, be your own warm self on Twitter and Facebook and KILL YOUR MYSPACE. You can never hear that message too often.
Stefan Schmid from Zuco103 explained a little about how he produces and writes his music and how to find and keep the essence of a song, even though it's changed on every side. Though I don't agree with his remark that the sampling era is kinda over (pff, then I'll just bring it back by myself!) and his style of music is not even close to mine, I do love people like him going off on these kind of musical expeditions and ending up with something that sounds great.
To top my day off, I found a singer who was at an earlier edition of the Muzikantendag years ago and whom I had heard singing. I was so intrigued by her voice back then I was hitting myself over theh ead I had never figured out what band she was playing in. I got a card from her, turns out she's in The Kroons. Ah, my mind is at ease now.
Oh and on the way to the station ,unconnected to the Muzikantendag, there was a guerilla party going on for a dance festival. Dudes just parked  truck with speakers near the lawn and a crowd that was already gathered danced to it. A single policeman on a bike turned up and it was obvious there was nothing he could do to stop this. Lucky for him the guerilla gig by then was pretty much over anyhow and every one went home, including me. It was a great day for music.
Like this? Buy me a drink!