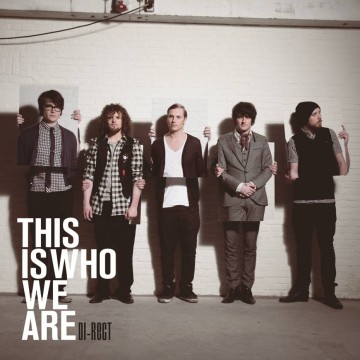 Today at the subway station I was greeted by a poster of the band Di-rect. After the departure of the lead-singer, their record company art-director probably decided to change their image from "rock 'n roll boyband" to "serious musicians". Of course they had to do a photo shoot to stress this.
On the surface they seem to have done an okay job. 'Clever' photography effect (holding up signs with their own face), trendy contrasting lighting and a style consultant fitted them colour-coordinated clothing. But as far as I'm concerned they violated one big rule of band photography.
Do. Not. Ever. Stand in front of a brick wall. Even if it's subtly painted white. Rock 'n Roll Confidential has Hall of Shame of band photography and one thing that's very common is the "brick-wallers". People without any imagination in desperate need of a backdrop, who decide to 'casually' lean against a brick wall. Granted, most of the photography itself is far worse than this album shoot, but as far as I'm concerned it's a deadly sin to ever pose in front of a brick wall. Click though the gallery linked above to understand why.
Like this? Buy me a drink!