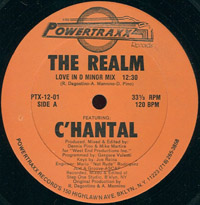 In 1990 three guys, Anthony Mannino, Ralph D'Agostino & Dennis Pino, produced a laid-back, 12-minute long early house track under the name C'hantal entitled The Realm. A song that most likely would have disappeared in the pile of anonymous house tracks that filled the discotheques in the weekends back then. Except it didn't because of one simple fact: the original vinyl record also featured an acapella track with just the vocals that were featured in the song. That made it perfect for sampling.
Soon after, the rather pretentious lyrics of the Realm popped upin various other house tracks that would go on to become big club hits. Examples are Speedy J's Something for your Mind (1991) and The Ultimate Seduction (1992) by The Ultimate Seduction (the guys that made the Turn up the Bass compilations) that even borrow their titles directly from the sample's speech. The first record to sample the Realm however was the 1990 track Orgasm by Ursula Hybsch.
After the success of Something for your Mind, many more dance tracks over the years plundered various parts of the sample. Noteable are Wet Like the Rain by The Bronx from 1997, Wrong is Right (1999) by DJ Jose & G-spott and Something 4 Your Mind (2008) by  Audio Junkies. There's even a dubstep song titled Toasty (2008) by Reflect which briefly uses the sample.  In 1999 an artist named Dejure released the track Sanctuary and oddly enough it doesn't use a sample but another girl speaking the lyrics. Might as well used the original.
My personal favourite use of the sample: Something For Your Mind by Speedy J:
Like this? Buy me a drink!